Since towers fell, it's been a blur of names for headstone engrave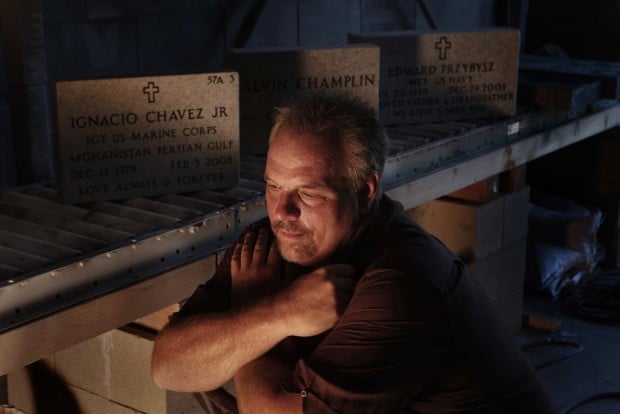 RIVERSIDE, Calif. – Two blank grave markers sit on the sizzling back lot of the Sun City Granite Co., waiting to bear the names of U.S. service members killed in Iraq or Afghanistan.
Joe Mehochko knows they'll probably be young. Fresh out of high school. Like the scores of others whose names he's carved into black-speckled granite since the wars began. Maybe a soldier killed in a firefight outside of Baghdad. A Marine blew apart by a roadside bomb near Kandahar.
"All I know," said Mehochko, covered in sweat and powdery dust inside the un-air-conditioned shop, "is that we'll get a call. … We always do."
Riverside National Cemetery has relied on Mehochko's four-person engraving company in Perris to produce headstones of all those killed in action and buried there since the war on terror began – close to 100 in all.
"We had nothing for the longest time. Then the first one hit. Then, pretty soon, 10. Then 20. It keeps going on and on," Mehochko said. "On 9/11, look at how many people died. But how many people have died since, fighting this war? It's sad, really. Just sad."
All of the orders are rush jobs, to be completed with just a few hours' notices. Cemetery officials don't want the loved ones of those killed in the line of duty to ever see a barren grave site, so the headstones must be in place on the day of the funeral.
When Mehochko arrives at work before sunup, there may be an order waiting on a desk inside a cinder-block back room. Every other job in the shop is set aside.
Mehochko will never meet the family or attend the funeral. All he ever knows about the dead are scant details provided by Veterans Affairs: name, rank, military branch, where they served, the day they were born, the day they died. Sometimes a marker will include a cross, Star of David or other religious symbols, and a four- or five-word inscription from the family.
But no matter how distant, a bond exists.
"It's an honor, really," said Mehochko, 48. "It's a memorial for that person, and something the family can see and know that it's going to be there forever. The casket, that's for three days."
Mehochko left the service to open Sun City Granite with his wife, Teresa Herbert. Although divorced, the two still run the company side by side.
The government specifications for a military headstone are precise: In Riverside, the markers must be 3 inches thick, and either 12 by 18 or 24 by 12, depending on their location in the sprawling graveyard.
Amid the blur of names and simple inscriptions, thoughts of death rarely creep into Mehochko's mind. The joys and sorrows of a lifetime never make it to stone, but at least most of the dates he carves into the granite reveal that most lived long lives.
That's the thing that strikes him hardest when an order comes in from Riverside National Cemetery, especially as he sees birth dates creeping closer to that of his 17-year-old daughter.
"It's really touching,'" he said. "You think, 'Oh, man, they were 18 years old and they went over there.'"
The loss is never more apparent than during the funerals.
When a World War II veteran is laid to rest, loved ones gather to pay their respects and celebrate a complete life.
"They came back, bought homes, aluminum siding, cars. They raised their children and lived their lives,'" said Jim Ruester, spokesman for Riverside National Cemetery. "It's completely different for those killed in action."
The parents, brothers, sisters, and friends who gather for those funerals are so young "it looks like a prom," Ruester said.
The engravings must be in "Government" font, without punctuation, and cut a quarter-inch deep to allow for a natural black shadow to separate the inscription from the flecked stone.
"They all look the same,' " Herbert said. "In uniform, they also all look the same."